Jennifer and I have been asked to help judge
QuiltStory's
Block Party! This sounds like fun.... too bad I can't enter and there are some great prizes to be had!
Here's what Heather and Megan have to say!~
We've been working on a really fun new project for the blog...and we're not the ones creating things, you are! So this post may be a tiny bit lengthy, but trust me it is going to be fun and worth it!
Basic idea:
YOU (any and all of you) will create quilt blocks and submit them to QuiltStory's Block Party. There will be three categories in which you can enter your block.
Modern, Traditional and Creative
.
How to submit:
Three weeks from today we will have a linky party starting 12:01 am MST on Monday February 7th through Wednesday February 9th closing at 11:59 pm MST. During this time you will submit your quilt block in one of the three categories,
Modern, Traditional and Creative
. You can submit up to three blocks.
Categories:
You will be the judge of which category your block falls in to, but it can be only one. Modern or Traditional can mean the layout of the block or the fabrics. Creative is referring to a block that maybe has applique, a pieced house block, etc. You don't necessarily need to be experienced to enter this contest! If you are unsure or new to quilting, I'd search through

Flickr

to get ideas on some quilt blocks!
Prizes:
We have got some amazing prizes for the winners of this contest!! Let me introduce you to the sponsors and all the goodies you could win!


Here is our cute little button. If you are going to participate in the block party, add this button to your sidebar. Whether or not you participate, we'd love for you to do a post about it, post a button, help get the word out there! Not only will this be a great way to win prizes, but a great resource and inspiration for quilt blocks!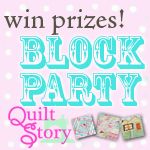 Boring additional details if you care to read on!:
Winner will be announced on Friday February 11th
The quilt block can be any size
Make sure that you enter a single quilt block, ie not a close-up of a block on a quilt :)
Your block does not have to be your own original idea, however if you did get the pattern or idea somewhere make sure to credit them in your post
If you are not a US resident and win a prize, you'll be responsible for shipping charges
More questions? No problem, comment here or email us at myquilststory[at]gmail[dot]com
..............................................................................
Looks like fun, right? I can't wait to see what everyone come up with!